The history of bioMérieux
Our History
Since 1963 bioMérieux has pioneered in vitro diagnostics. With research roots stretching back over a century, we have always been committed to improving public health.
Today we help clients in more than 160 countries increase productivity while protecting patients and customers alike.
Our origin: rooted in research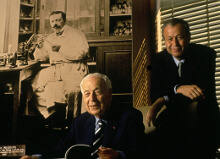 The bioMérieux story began with Marcel Mérieux, who worked with distinguished biologist Louis Pasteur.
In 1897 Marcel Mérieux founded the Institut Mérieux in Lyon where he developed the first anti-tetanus serum.
Building on the institute's work in vaccinology and infectious diseases, the company BD Mérieux was set up by the Mérieux family in 1963.
1963-1974: Pioneering analysis technologies and a new name
In 1967 we built the Fibrometer, which was adopted by a quarter of France's laboratories. In 1972 we pioneered ready-to-use culture media in Petri plates.
We then released the SLIDEX® Meningitis kit in 1974; the first system able to diagnose an infectious disease without prior culture.
In the same year Alain Mérieux took control of the company and renamed it bioMérieux.
1986-1990: Growth through acquisitions
In a busy four years bioMérieux made our first acquisitions:
●    Api System in 1986 (creators of the first toxoplasmosis detection kit and the miniaturized API® strip), and
●    Vitek Systems in 1988.
We also developed chromogenic culture media in 1989.
1991-1995: Building our market-leading VIDAS® technology
In 1991 we developed the first version of our pioneering VIDAS® system with 8 initial kits. This was followed by the VIDAS® automated immunoassay platform for industrial applications in 1992.
In 1995 we then created the VIDAS® D-Dimer Exclusion™ - the first FDA-certified test able to rule out deep vein thrombosis and pulmonary embolism.
2001-2002: Expanding to HIV analysis
In 2001 we acquired OrganonTeknika, which had launched the first HIV screening test (VIRONOSTIKA® HIV anti-HTLV-III) in 1985.
We then developed new diagnostics systems for HIV; NucliSENS EasyQ® and NucliSENS EasyQ® HIV-1.
2003-2008: Public listing and further acquisitions
In 2004 bioMérieux was listed on the stock exchange. Over the next few years we created the TEMPO® system and VITEK® 2 Compact, while acquiring several other companies including:
●Bacterial Barcodes
●Biomedics
●BTF
●AB BIODISK
●AviaraDx
●PML Microbiologicals
In 2003 we also joined the United Nations Global Compact.
2009-2012: New testing and software systems, and international expansion
In 2009 we launched the PREVI® Color Gram for automated Gram staining and in 2010 the Myla® middleware for optimising laboratory workflows.
We also released the BacT/ALERT® 3D Dual-T microbial detection system and further acquisitions such as:
●    Meikang Biotech
●    AES Laboratoire
●    ARGENE
●    RAS
2013-2019: FDA approvals, CE certification and more
In recent years we have developed more leading edge technology such as VIDAS® 3, GENE-UP® 
We achieved FDA approvals and CE marks for many products including:
●    THxID™-BRAF
●    BacT/ALERT®, VIRTUO™
●    BIOFIRE® FILMARRAY® RP2
We also acquired several other brands:
●    BioFire Diagnostics Inc.
●    Ceeram
●    Advencis
●    Applied Maths
●    Hyglos
●    Astute Medical
●    Hybiome (majority stake)
●    Invisible Sentinel
In 2016 we moved to the Campus de l'Étoile to build a new base for our future.
Today bioMérieux has more than 13,000 employees across 15 main production sites and 17 R&D facilities around the world.